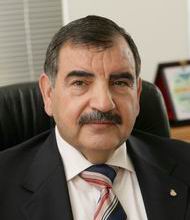 Dear students and aviation professionals,
It is with great pleasure that I welcome you to the Queen Noor Civil Aviation Technical College.
As we all know, aviation encompasses a complexity of diversified disciplines, professions and equipment. Unless adequate skills and required know-how is harnessed properly to operate efficiently, the return on the vast resources and investments will not be optimal. Recognizing that human resources are the most valuable assets in any organization, a decision to invest in training was top priority from the early days and the choice of maximizing those assets was obvious.
We are sincerely committed to our mission to provide effective and efficient training and consultancy services in the field of civil aviation and to enhance safety, security and efficiency of the national and regional air transport sector.
At QNCATC we aim for full customer and student satisfaction by providing very high quality training and educational services in different specialized fields of civil aviation.
We proudly state that our college has made big leaps and has reached to a distinguished position among similar institutions in the region and worldwide.
The management and the faculty at QNCATC continuously strive to uphold international standards and keep pace with the increasingly sophisticated demands of the world of Civil Aviation.
Wishing you a smooth navigation through our website.
Captain Mohammed Khawaldeh