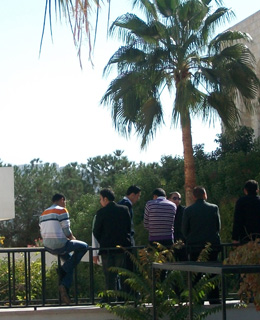 The Civil Aviation Authority in Jordan established a technical training center in 1973 with the aid of ICAO and UNDP to provide the Jordanian airports with qualified employees.
In favor of great effort and increasing efficiency, the Center was granted the status of College licensed to teach two year programs and award Community College Diplomas in addition to specialized training. In 1990 the College became one of the founding members of the ICAO TRAINAIR Program.
The College is situated on its own campus adjacent to Amman Marka airport approximately 12 km from the center of Amman.
The College has developed to fulfill not only national needs but also is in position to fulfill regional needs in most disciplines of Civil Aviation Training. In 1998 the International Civil Aviation Organization (ICAO) established the ICAO Middle East Regional Aviation Security Training center at the College. Given the tremendous challenges facing the air transport sector especially in the region the College together with MSM have signed a Collaboration Agreement to implement jointly an Executive MBA Degree Program in Aviation Management , which started in March 2000.
 The Jordan Center for Aviation Security and Safety was inaugurated on the 22nd October 2000 in cooperation with American Aerospace Services International Inc.( ASI ) to offer advanced aviation safety, security, crisis management and risk control courses, seminars, workshops and conferences.
There have been over 13900 graduates since the establishment of the college, including more than 2000 participants from other countries